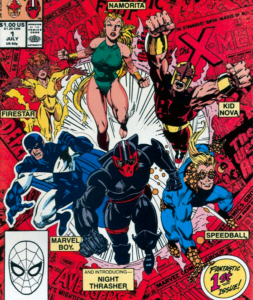 The Crashpod #5 – The Warriors Come Together is now available for your listening pleasure! This episode of The Crashpod covers Thor #411, Thor #412, New Warriors #1 (Volume One), New Warriors #2 (Volume One), New Warriors #3 (Volume One) and New Warriors #4 (Volume One). The beginning of the podcast has several questions that are pretty obscure in some cases – how well do you know or remember the New Warriors? Check out the trivia.
Please give it a listen – and if you even remotely enjoyed what was mentioned in this issue of The Crashpod – please sure this around, since word of mouth helps greatly in getting the word out.

Audio clip: Adobe Flash Player (version 9 or above) is required to play this audio clip. Download the latest version here. You also need to have JavaScript enabled in your browser.
You can also download the podcast as an MP3 file.
You can discuss the podcast on the New Warriors Forum.  If you're not already a member of the forums, please pay attention to the first step in the Registration Process.