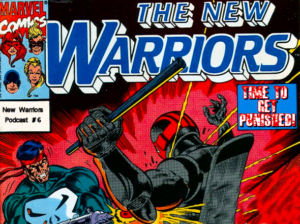 The New Warriors podcast, The Crashpod, has just released "Issue #6 – Time To Get Punished." In this episode of The Crashpod we have some more random trivia for New Warriors fans to reach deep into the back of their memories and see if they can pull out the answers to these obscure questions that are all New Warriors related to these specific issues! Do you think you remember the answers! Check out the podcast – all the questions are asked at the very beginning – then, throughout the podcast, each of those answers is revealed!
Audio clip: Adobe Flash Player (version 9 or above) is required to play this audio clip. Download the latest version here. You also need to have JavaScript enabled in your browser.
If it does not stream on the site, and you do not have an iTunes account to listen to it there, then you can right click this link and save the MP3 file.
Please considering sharing this on your Facebook, Twitter, and other social media outlets; as well as, if you do have an iTunes account, please consider rating us and leaving a comment there as well. It's much appreciated.