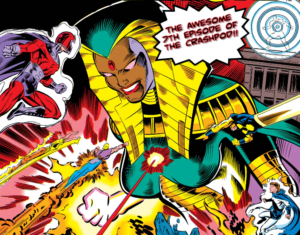 Thanks to Insomnia (my best friend) and the epic battle we had – I finally raised my hands in defeat and said, "Fine! I can't sleep! I will do something!" So I sat in my room and talked to myself. Not like a crazy person. Well… not any crazier than I already am… but I mean, I talked to myself, as in doing the next New Warriors podcast for The Crashpod. So issue #7 of the Crashpod covers volume one, issues #11, 12, and 13, which are all a part of the Forever Yesterday storyline. So give it a listen. Let me know what you think. If you enjoyed it, the best thing you can do is share it around!

Audio clip: Adobe Flash Player (version 9 or above) is required to play this audio clip. Download the latest version here. You also need to have JavaScript enabled in your browser.
If it does not stream on the site, and you do not have an iTunes account to listen to it there, then you can right click this link and save the MP3 file.
Please considering sharing this on your Facebook, Twitter, and other social media outlets; as well as, if you do have an iTunes account, please consider rating us and leaving a comment there as well. It's much appreciated.